About Investing
As a kid you hear a lot about saving your money and you think a lot about spending your money … But most kids don't know much about investing their money. While this is something that grownups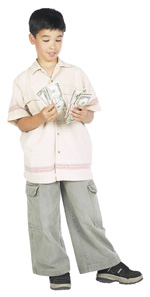 usually do, it's good to learn about it now.
What is investing?
Simply put, investing means you put your money to work for you. You already know that you have to work to make money. And what if you want more money? You could work more, or you could invest it. This means your money will (hopefully) make extra money for you.
How do you invest?
The easiest way to look at investing is you're paying money to own a very small part of something – usually a company. When the company does well, you make money. If the company doesn't do well, you lose money.
Adults that invest usually do so over a long period of time and invest in a few different companies. This is the best way to make sure you end up making money in the long run.
Why do you invest?
While it's always good to have a savings account and put money into it, it may not earn as much as when you invest. And earning extra money is always a good thing!